ResMed
ResMed AirMini™ Ultimate Travel CPAP Package with AirFit™ P10 Nasal Pillow Mask
Sale price

$1,075.00

Regular price

$1,299.00
Buy Now, Pay Later with Affirm
In Stock and Shipping Daily
Prescription required for this product before shipment.
Everything you need to know about the AirMini.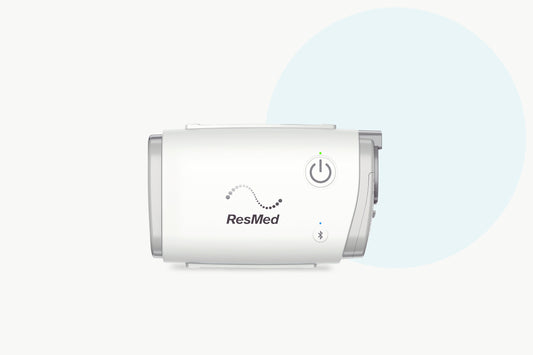 Waterless Humidification
Enjoy the comfort of humidification without the hassle. AirMini features HumidX and HumidX Plus, an advanced waterless humidification system that allows you to leave the distilled water at home and still enjoy the benefits of humidification and hydration.
Stay Connected
Enjoy access to a range of comfort settings and your 30-day sleep data all from your smart phone. Enable cloud connectivity for unlimited data storage and on demand access to compliance and therapy reports.
World Traveler
The AirMini is FAA approved so now you can land feeling refreshed and ready to hit the ground running. No power at your seat? No worries with our optional lithium ion battery you can enjoy up to 16-hours of continuous AirMini bliss.
Reviews
A Superior CPAP Experience.
Hear how Lofta clients have gotten back to better sleep.
FAQs
Sleep Therapy Simplified
Answers to your common questions about AirMini and tips for getting better sleep every night.
Which mask interfaces are compatible with the AirMini?
What is the AirMini™ Set-Up Pack and why do I need one?
Will the AirMini power supply work internationally?
Is there a battery available for the AirMini?
Can I use the AirMini on airplanes?
Can the AirMini be used as an everyday therapy device?
Will insurance pay or reimburse me for the AirMini?
Why should I buy my AirMini from Lofta?