Skip to product information
AirFit P10 Nasal Pillow

* Selected Mask Displayed
ResMed AirMini™ Basics Bundle
Sale price
$1,075.00
Regular price
$1,349.00
Buy Now, Pay Later with Affirm
In Stock and Shipping Daily
Prescription required for this product before shipment.
The ResMed AirMini™ Basics Bundle, a comprehensive starter kit perfect for new CPAP machine users or seasoned users looking for a convenient travel solution. This bundle encompasses the best of ResMed's innovation and comfort, with the ultra-portable AirMini™ CPAP machine at its core.
In the ResMed AirMini Basics Bundle, you'll find the featherweight AirMini™ CPAP machine, designed for on-the-go therapy while maintaining the high-quality, reliable performance associated with ResMed's line of sleep apnea solutions. The AirMini™, ResMed's most compact and travel-friendly CPAP machine, transforms your sleep therapy into a seamless part of your lifestyle, whether at home or on the road.
Experience the freedom of choice with our range of compatible ResMed masks included in the bundle. Select from the AirTouch N20 Nasal Cushion, AirFit P10 Nasal Pillow, AirFit N20 Nasal Cushion, AirFit F20 Full Face, AirTouch F20 Full Face, AirFit F30 Full Face Hybrid, or AirFit N30 Nasal. This means that you can choose the mask that best suits your comfort and fit needs, creating a truly personalized sleep therapy experience.
For optimal humidity without the bulk, the bundle includes the ingenious HumidX™ cartridges for waterless humidification*, ensuring your therapy remains comfortable and effective in any setting.
*Please note that HumidX™ is not compatible with F30 Mask.
With this bundle, there's no fumbling with different components – you'll also receive AirMini™ compatible tubing, ensuring a perfect fit and uncompromised performance.
The ResMed AirMini™ Basics Bundle is your ticket to easier, more comfortable and portable sleep apnea therapy. Discover the convenience of the AirMini™ and take your therapy on the road without missing a beat. Make sleep apnea therapy a breeze, whether you're at home or away, with the ResMed AirMini™ Basics Bundle. Enjoy the freedom of a travel CPAP machine without compromising on performance, quality, or comfort. Welcome to the future of sleep apnea therapy, today. 
What's Included:
- ResMed AirMini™ machine
- Choice of AirMini™ compatible mask
(AirFit™: P10, F20, F30, N20, N30 or AirTouch™ F20)
- AirMini™ compatible tubing
Everything you need to know about the ResMed AirMini™ Basics Bundle.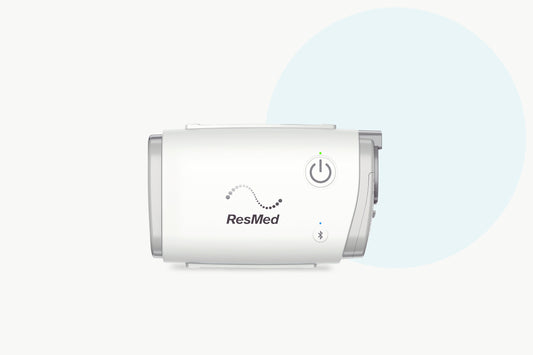 Waterless Humidification with HumidX™
Enjoy CPAP humidification without the hassle. The ResMed AirMini™ features HumidX™ and HumidX™ Plus, which is an advanced waterless humidification system. No need to carry additional bottles of distilled water with you anymore. You can still enjoy the benefits of humidification and hydration with the AirMini™. Please confirm your mask compatibility under the Additional Features section.
Stay Connected and monitor your progress
With built-in smartapp support for Android and iOS devices via Bluetooth connectivity, you can enjoy access to a range of comfort settings and your 30-day sleep data all from the convenience of your smartphone. When linked to the AirMini™, the free to download AirMini™ by ResMed app becomes your personal sleep therapy assistant The Cloud connectivity is offered for unlimited data storage and on demand access to compliance and therapy reports.
Perfect for on-the-go travelers
The AirMini™ CPAP is not only portable and lightweight, it is also FAA approved and can also be used during flight. No power at your seat? No problem, with our optional lithium ion battery you can enjoy up to 16-hours of continuous AirMini™ sleep apnea therapy bliss.
FAQs
Sleep Therapy Simplified
Answers to your common questions about ResMed AirMini™ Basics Bundle and tips for getting better sleep every night.
How do I set up my ResMed AirMini™?
Which masks are compatible with the AirMini™?
What is the AirMini™ Set-Up Pack and why do I need one?
How does HumidX™ and HumidX™ Plus work with the AirMini™?
Is it simple to change the HumidX™ or HumidX™ Plus cartridges?
What does the AutoSet™ feature do?
Is there a battery available for the AirMini?™
Can I use the ResMed AirMini™ in-flight?
How do I clean or maintain the ResMed AirMini™ CPAP machine?
Can the AirMini™ be used as an everyday therapy device?
Will insurance pay or reimburse me for the AirMini?™
Why should I buy my AirMini™ from Lofta?