ResMed
ResMed AirSense 11 AutoSet CPAP Machine
Sale price

$989.00

Regular price

$1,299.00
FSA/HSA Eligible ⓘ
Free Shipping ⓘ
Prescription required for this product before shipment.
Introducing the AirSense™ 11 by ResMed , a top-of-the-line auto-adjusting CPAP machine designed to provide optimal comfort and ease of use for people with Sleep Apnea and the natural successor to the award winning AirSense™ 10.

The AirSense 11 offers improved and enhanced digital health technology such as AutoSet algorithm and HumidAir and is designed to make CPAP sleep therapy much easier, more comfortable and even more convenient than ever before.

Additional overall improvements of the AirSense 11 vs AirSense 10 include a crystal clear, LED touch screen which makes the device simple to use. No need any more for cumbersome knobs and turn dials. The design has also been revamped and improved and is now sleek and modern that looks great in any environmental setting. Not only does the AirSense 11 look better but it's also smaller and lighter than before which makes it easier to move and transport. It is also more power efficient as well, consuming only 65W as opposed to its predecessor's consumption rate of 90W. As an added bonus, cleaning the AirSense 11 is also a breeze due to its design and layout.

Experience the future today and take your Sleep Apnea therapy to a whole new level with the ResMed AirSense 11, the reliable and effective option for improving your sleep and overall health.
Everything you need to know about the ResMed AirSense 11 AutoSet CPAP Machine.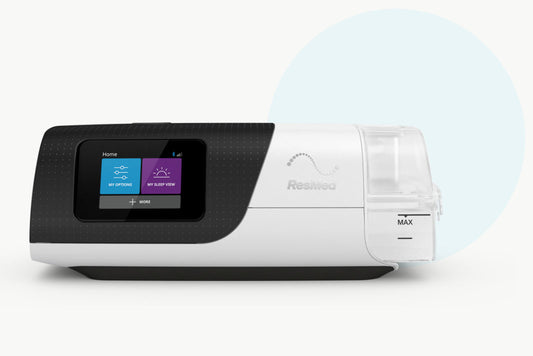 Advanced AutoSet™ Algorithm
The AirSense™ 11 changes airflow pressure levels throughout the night based on your specific needs and breathing requirements at that particular moment during sleep therapy.
Multi Functional CPAP
The AirSense 11 includes three different therapy modes: AutoSet™, AutoSet™ for Her and normal CPAP mode.
Gentle Flow
The AutoRamp™ feature delivers a low airflow pressure that helps you to fall asleep, then steadily increases airflow pressure to your prescribed level while sleeping, providing you with the best Sleep Apnea therapy.
Tried and tested features and functionality have been updated such as the Simple Start/Stop button which makes it easy to turn therapy on and off with a single stroke. The familiar Integrated heated humidifier can now be controlled either manually or automatically with the Climate Control feature.
The ResMed AirSense™ 11 CPAP also features AutoRamp™ technology that delivers a low airflow pressure to help you fall asleep, then steadily increases airflow to your doctor's prescribed level. The device also has a feature known as EPR™ (Expiratory pressure relief) that helps to maintain regular airflow pressure while you inhale and reduces pressure to make it easier when exhaling during your sleep apnea therapy session.
Technological improvements on the AirSense™ 11 are phenomenal. The device includes access to ResMed myAir™, which is an online support program and app that uses data from your CPAP machine and monitors your sleeping patterns throughout the night and provides customized coaching tips and encouragement. myAir™'s Personal Therapy Assistant also guides you through your CPAP equipment setup, helping you troubleshoot common issues as well as suggesting unique therapy programs.
Another feature, Care Check-In also can give the user coaching and assistance tailored to meet personal requirements for sleep apnea therapy.
The ResMed AirSense™ 11 also supports over-the-air software upgrades that give you the opportunity to directly receive maintenance and feature updates straight to your CPAP device.
Ready Support for Sleep Success
Your Lofta therapy continues well beyond the CPAP purchase. We're here with ongoing information and guidance to keep you on the path to healthy sleep.
LoftaCare
Rest easy with Lofta guidance and recommendations.
On-demand compliance reports ($35)

Lofta Respiratory Therapist Team available for support / coaching ($40 for a 20 minute session)

Medical forms requiring a physician signature ($35 - $125)

60-Night Mask Exchange

Enhanced Return Policy
LoftaCare Plus
Personal support sets you up for success.
$200
1 year of coaching calls

60-Night Cash Back Return

60-Night Unlimited Mask Exchanges

1 Year Supply of Device Filters

V-COM Air Flow Reducer

Jump Start Coaching (1 wk, 1 mo, 3 mo, 6 mo)

3-year PAP Device Product Protection

Discounts on future CPAP supply orders

Enhanced Return Policy
FAQs
Sleep Therapy Simplified
Answers to your common questions about ResMed AirSense 11 AutoSet CPAP Machine and tips for getting better sleep every night.
How does the AirSense 11 compare to other CPAP machines?
What are some of the features of the AirSense 11?
What is AutoSet technology?
Which masks are compatible with the AirSense 11?
Is there a feature to help me get comfortable breathing against pressure, and to help make sure I'm setting up my machine and using my mask correctly?
Can I use an ozone device to clean my the AirSense 11?
How do I clean my CPAP machine and how often?
What is included with the AirSense 11?
What is the expected lifespan of a typical ResMed CPAP machine?
What is the difference between the ResMed AirSense 10 and AirSense 11?
Can you use the AirSense 11 without water?
How loud is the ResMed AirSense 11?
Does the AirSense 11 have WiFi capabilities?
Should I change my CPAP water daily?
How can I clean and maintain my AirSense™ 11 CPAP device?
How can I tell if my AirSense™ 11 CPAP air pressure is too low?
Is the AirSense 11 covered by insurance?