ResMed
ResMed AirFit™ F20 Full Face CPAP Mask - Complete System with Airmini Setup Pack
Sale price

$202.60

Regular price

$170.00
FSA/HSA Eligible ⓘ
Free Shipping ⓘ
Ideal for Mouth Breathing
Experience the ultimate in comfortable and effective CPAP therapy with the AirFit™ F20 full face CPAP mask by Resmed. The full cushion design covers both your nose and mouth, allowing you to breathe freely from either.
The AirFit F20 mask is designed to provide a secure and comfortable seal, helping to reduce mask leaks and ensure optimal therapy. The AirFit F20 comfortably moves with you throughout the night, regardless of sleep position and features a plush headgear and soft, flexible frame for maximum comfort. Designed to be put on and taken off quickly and easily.
This complete kit includes everything you need for successful therapy, including the mask frame,
cushion
,
headgear
and magnetic clips. The F20 also can be used with the revolutionary AirMini™ Portable CPAP device when utilizing the
F20 AirMini™ Setup pack
.
With its innovative features and superior comfort, the AirFit F20 is the perfect choice for anyone seeking a better night's sleep. Try the AirFit F20 today and experience the difference for yourself.
Everything you need to know about the ResMed AirFit F20.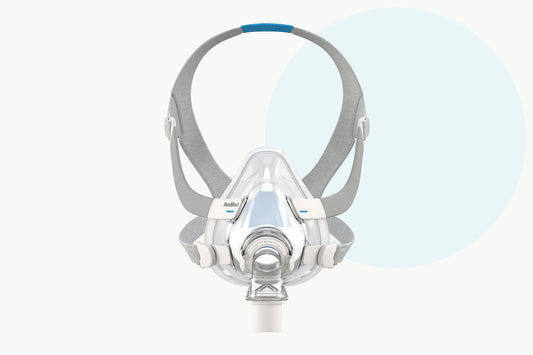 Secure seal and fit
Say goodbye to mask leaks and hello to a comfortable sleep with the secure seal of the AirFit F20 Full Face CPAP Mask.
Innovative Design
The innovative design of the AirFit F20 Full Face CPAP Mask provides a clear field of vision, making it perfect for reading or watching TV during therapy before bed.
Comfortable Headgear
With its soft, plush headgear and magnetic clips, the AirFit F20 Full Face CPAP Mask is designed for maximum comfort and convenience.
FAQs
Sleep Therapy Simplified
Answers to your common questions about ResMed AirFit F20 and tips for getting better sleep every night.
What makes the AirFit F20 Full CPAP Mask unique and different from other CPAP masks?
How do I know if the AirFit F20 Full CPAP Mask is the right fit for me?
How do I clean and maintain the AirFit F20?
Do I need to purchase any additional parts to interface the ResMed AirFit F20 Full Mask with the AirMini device?
How does the Lofta CPAP mask exchange policy work?
How do I know which type or style of CPAP mask will be best for me?
What are the different styles of CPAP mask options?
What are best practices for cleaning my mask interface?
How can I keep my CPAP mask on at night? I often remove it while I'm sleeping without realizing it.
Do I have the right mask size? I have to strap it so tight to obtain a seal that it hurts.
My CPAP mask is leaking. What can I do?
Why and how often should I get a new CPAP mask cushion?
Why and how often should I replace my headgear?
Can I buy mask replacement parts and supplies from Lofta?
I normally use a nasal mask. Can I use a full face mask when I have a cold?
Can a ResMed CPAP mask be used with another manufacturer's CPAP device?