Philips Respironics
DreamStation 2 Auto CPAP Advanced with Humidifier
Sale price

$879.00

Regular price

$1,205.00
Tired of struggling to get a good night's rest? Then why not have a look at the Philips Respironics DreamStation 2 Auto Advanced CPAP machine. The DreamStation 2 is a sleek, portable and sophisticated sleep apnea machine that offers easy, efficient setup and personalized comfort settings that guarantee better sleep each and every night. Plus, its state-of-the-art Ramp Plus technology prevents those uncomfortable nights of disrupted breathing, making it easier than ever to relax and drift off into dreamland.

This machine is so user friendly – simply take it out of the box and follow the default steps presented on the LCD display screen. If you don't want to mess with lots of technical settings; this intelligent device takes care of everything for you. Plus, your physician can remotely personalize your comfort settings through Care Orchestrator for even better experience. You can also personalize your Sleep Apnea therapy experience using the DreamMapper App which can be used on various devices. The color touchscreen allows for easy navigation to check your clinical data and give you control over settings like humidity levels, tube temperature and Ramp Plus, a feature that pressure starts low when falling asleep and increases slowly automatically each time upon use.
The DreamStation 2 is also compatible with Philips' smallest-diameter 12mm heated tubing, so you never have to worry about any uncomfortable snags or tangles throughout the night. Get ready for an ultimate recharge in your sleep cycle and start rejuvenating today!
Everything you need to know about the Dreamstation 2.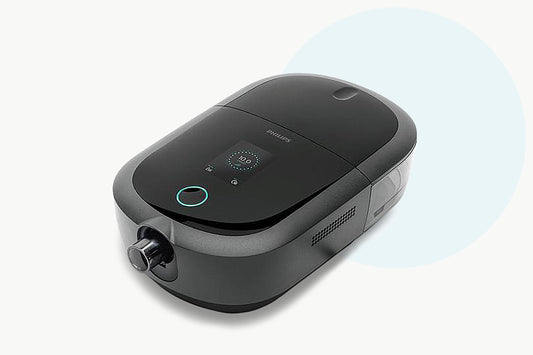 Sleek, Portable design for everyday use
With a decrease in size and weight in comparison to the previous model, the DreamStation 2 CPAP is made to be used every night whether at home or on the road. Travels easily.
Ramp Plus Technology for added comfort
Perfect for those who struggle with high pressure therapy. Pressures can be set lower during the Ramp period until reaching normal therapy pressures. Supports auto adjusting event detection.
Micro-flexible heated CPAP tubing
The DreamStation 2 supports Philips' smallest diameter tubing, which is made to be comfortable while taking up less space than traditional tubing. No more hose tangles during the night. Only 12mm in diameter.
Ready Support for Sleep Success
Your Lofta therapy continues well beyond the CPAP purchase. We're here with ongoing information and guidance to keep you on the path to healthy sleep.
LoftaCare
Rest easy with Lofta guidance and recommendations.
On-demand compliance reports ($35)

Lofta Respiratory Therapist Team available for support / coaching ($40 for a 20 minute session)

Medical forms requiring a physician signature ($35 - $125)

60-Night Mask Exchange

Enhanced Return Policy
LoftaCare Plus
Personal support sets you up for success.
$289
1 Year of Support (Including On-demand Coaching, Monitoring, Device Adjustments, and Compliance Reports)

60-Night Cash Back Return

60-Night Unlimited Mask Exchanges

1 Year Supply of Device Filters

V-COM Air Flow Reducer

Jump Start Coaching (1 wk, 1 mo, 3 mo, 6 mo)

3-year PAP Device Product Protection

Enhanced Return Policy
Reviews
A Superior CPAP Experience.
Hear how Lofta clients have gotten back to better sleep.
FAQs
Sleep Therapy Simplified
Answers to your common questions about Dreamstation 2 and tips for getting better sleep every night.
What does the DreamStation 2 CPAP do?
What is the main difference between the DreamStation 1 and 2 machines?
Which is the better CPAP, DreamStation or DreamStation 2?
When did DreamStation 2 CPAP come out?
Can I use my DreamStation 2 Auto Advanced CPAP without water?
How often do I need to change the filters in the DreamStation 2?
Does the DreamStation 2 have an SD card?
What happens if my CPAP machine runs out of water while sleeping?
Does the DreamStation 2 automatically set pressure?
Does DreamStation 2 have a heated tube option?
Do I need to change the water in my CPAP daily?
Does the Philips DreamStation 2 have WIFI?
How can I dry my CPAP hose faster?
How do you adjust the pressure on a Philips DreamStation 2?
How many watts of power does the DreamStation 2 Auto CPAP use?
Does the DreamStation 2 have a heated humidifier?