Women + Sleep Apnea
~20% of women have it.
90% don't know they do.
No, you're not just tired.
You wear a lot of hats. It might just wear you out. Or, you might have sleep apnea.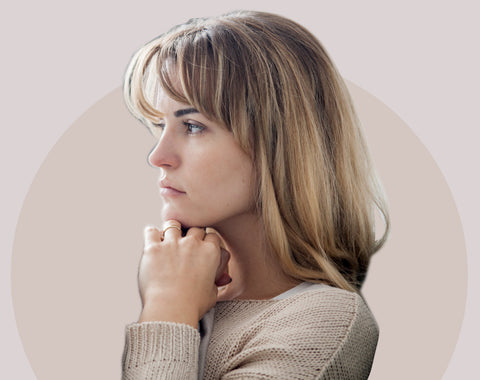 Some common signs of sleep apnea are:
Waking Up At Night To Use The Bathroom
Forgetfulness, Foggy Or Fuzzy Thinking
Gasping Or Choking Sounds During Sleep
Don't Put It Off
At times, women delay diagnosis and treatment. Reasons vary, but Lofta is with you every step of the way:
Fear of perception: While it's normal to worry, you're not weak for needing treatment! We'll hear your concerns and put you at ease, so you can be free to live your best life.
Embarrasment: Putting your well-being first is brave, and we're here to empower you to take charge of your sleep health.
Unrealistic beauty standards: Nothing is more beautiful than putting your best face forward after a restful night's sleep!
Family: No one likes leaving loved ones overnight to undergo a sleep study. With Lofta, you don't have to. You can do it at home on your time — no referrals or long waits.
"I went to my PCP with concerns over my sleep health so they requested a sleep study. Well they have yet to get back to me and in that time I've already finished the process with Lofta. Within days of my purchase, I had my doctor consultation, got the at-home sleep study kit the following week, and my results were in 2 days after the study and a diagnosis was made. Best choice going this route."
Briana S., Lofta client
"The Home Sleep Apnea Test was easy to use. I now have a clear diagnosis, and can start regaining my health, and hopefully lower my blood pressure, through better sleep."
Shauna C., Lofta client
"I've put off doing a sleep study because I knew I wouldn't do well in a lab, so when I found I could do one in my home I had to try it! It was so easy to set up and the report was very easy to understand. I now have a proper diagnosis and am awaiting my cpap machine. I wouldn't be on my way to better sleep if it wasn't for Lofta."
Alexandra T., Lofta client
"I had been told many times to get a sleep apnea test done, but when my initial appointment was rescheduled months away I procrastinated on getting the test done for years. It only has taken a couple weeks through Lofta to get my diagnosis and prescription for a CPAP. I'm so grateful for the easy and fast process that will finally let me get treatment and hopefully some good sleep."
Alison H., Lofta client
The Lofta Difference.
Once you've identified the problem, it'll make all the difference – the Lofta difference. You'll get a complete solution for your sleep apnea, with devices and supplies personalized for your care.
Start with our in-home sleep study. Unlike traditional lab tests, Lofta's Home Sleep Test is
Option to have your partner on the call