ResMed
ResMed AirTouch™ F20 Full Face CPAP Mask - Complete System with Airmini Setup Pack
Sale price

$215.00

Regular price

$179.00
FSA/HSA Eligible ⓘ
Free Shipping ⓘ
Ideal for Beards or Sensitive Skin
Introducing the ResMed AirTouch™ F20 Full Face CPAP Mask with memory foam that is packaged as a complete system. This highly regarded mask is soft, comfortable, stable in performance and features ResMed's UltraSoft memory foam cushion technology.

The AirTouch™ F20 is designed to reduce facial markings and skin irritation, and its plush, permeable foam creates a natural, breathable seal that allows excess heat and sweat to escape. This ends up being ideal for those who suffer from skin irritations and sensitive skin. The F20 CPAP mask also delivers fantastic comfort and a light, breathable experience even at high CPAP pressures. 
The memory foam cushion helps to deliver a light, comfortable fit while being able to handle a wide range of CPAP therapy pressures. This product is compatible with all ResMed CPAP machines and can even be used with the ResMed AirMini™ when used in conjunction with the AirFit™ F20 Setup pack. This setup pack is compatible with both AirFit™ and AirTouch™ F20 CPAP masks.
By being able to conform to the unique contours of the face, the AirTouch™ F20 is the perfect mask for those who want unbeatable comfort and a great fit.
This is the CPAP mask that you have been waiting for. Why not give the AirTouch™ F20 by ResMed a try? You won't be disappointed!
Everything you need to know about the ResMed AirTouch F20.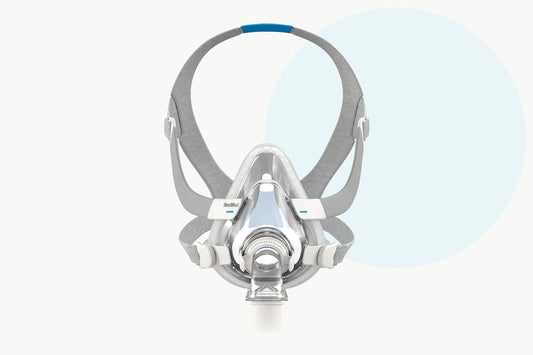 Better Visibility due to Design
The F20 does not require forehead support as the frame spreads underneath the eyes and rises high above the ears where it connects to plush headgear. This helps to provide a clear view of vision, ideal for reading in bed or watching television during CPAP therapy.
UltraSoft Memory Foam Cushion
The AirTouch™ F20's plush memory foam cushion is designed to adapt to the unique contours of each individual face, creating a light, breathable seal that remains in place throughout the night, offering the perfect mix of comfort and performance.
Quick Release Elbow with Air Diffuser
The AirTouch™ F20 helps to quieten CPAP therapy due to its diffuser design. The Quick Release elbow separates from the CPAP hose quickly and efficiently and allows for the patient to quickly stop and start therapy without the need to disrupt the mask during therapy interruptions.
FAQs
Sleep Therapy Simplified
Answers to your common questions about ResMed AirTouch F20 and tips for getting better sleep every night.
What is included with the ResMed AirTouch™ F20 Complete System?
What's the difference between the ResMed AirTouch™ F20 and the ResMed AirFit™ F20 CPAP masks?
How does the Lofta CPAP mask exchange policy work?
How do I know which type of mask will be best for me?
What is the best to clean my CPAP mask?
Do I have the right mask size? It's uncomfortable when I put it on.
What's the correct way to fit or put on a CPAP mask?
My CPAP mask is leaking during therapy. What should I do?
How often should I replace my CPAP mask's cushion?
Why and how often should I replace the headgear on my CPAP mask?
Does Lofta carry CPAP mask parts and accessories?
Can I use my ResMed mask with a different brand CPAP machine?