ResMed
ResMed AirFit™ F30i Full Hybrid CPAP Mask Complete System
Sale price

$159.00

Regular price

$179.00
FSA/HSA Eligible ⓘ
Free Shipping ⓘ
Meet ResMed AirFit™ F30i, the full face hybrid mask that gives you both the freedom you want and performance you can depend on. It's designed to keep air tubing out of the way so you can sleep in different positions while still getting a reliable seal. Silky soft, and accompanied with the UltraCompact cushion, you can be sure to wake up feeling like your best self.
Everything you need to know about the ResMed AirFit F30i Mask.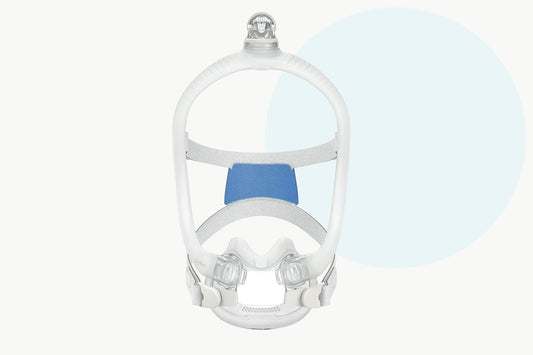 FAQs
Sleep Therapy Simplified
Answers to your common questions about ResMed AirFit F30i Mask and tips for getting better sleep every night.
How does the Lofta mask exchange policy work?
How do I know which style mask will be best for me?
What are the different styles of CPAP mask options?
What are best practices for cleaning my mask interface?
How can I keep my mask on at night? I often remove it while I'm sleeping without realizing it.
Do I have the right mask size? I have to strap it so tight to obtain a seal that it hurts.
What's the correct way to fit a mask?
My mask is leaking. What does this mean?
Why and how often should I get a new CPAP mask cushion?
Why and how often should I replace my headgear?
Can I buy mask replacement parts and supplies from Lofta?
I normally use a nasal mask. Can I use a full face mask when I have a cold?
Can a ResMed mask be used with another manufacturer's CPAP device?