ResMed
ResMed AirFit™ N20 Nasal Cushion CPAP Mask Complete System with AirMini Setup Pack
Sale price

$141.95

Regular price

$119.00
FSA/HSA Eligible ⓘ
Free Shipping ⓘ
The ResMed AirFit™ N20 Nasal Cushion Mask is definitely a product favorite of Lofta's and is highly regarded as one of the most comfortable, non-intrusive CPAP masks available currently on the market today.
This popularity is mostly due to the N20's InfinitySeal™ cushion that is designed to fit comfortably over the nose and creates an air pocket from which the user breathes the collected air. This reliable seal provides the user with proper, efficient airflow. Due to this, the AirFit™ N20 is designed to provide a natural therapy experience due to the indirect nature of the air delivery when in use.
The AirFit™ N20 also has a soft and flexible frame with integrated padding that allows for a stable yet comfortable fit that is great for those that like to change sleep positions often or are restless sleepers. Magnetic clips, quick release elbow and a simple design make for a mask that is intuitive and easy to reassemble after use or even when cleaning.
This nasal CPAP mask is highly reusable and easy to maintain too. Should certain elements of the N20 get worn out, parts are easily available from Lofta. From replacing the N20 headgear to mask cushions, maintenance is a breeze. Not to mention the fact that the AirFIt™ N20 can also be used with the highly popular ResMed AirMini™ Portable CPAP device by utilizing a N20 setup pack.
Everything you need to know about the ResMed AirFit N20.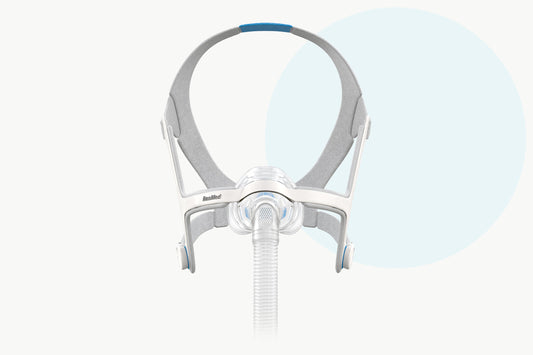 InifinitySeal™ Cushion
This cushion is designed to fit and provide a reliable seal to a wide variety of facial and nasal structures while also providing a more reliable seal.
Unobstructed Vision
The frame of the AirFit™ N20 Nasal CPAP Mask has integrated padding to help avoid irritation, and rests below the eyes to help keep your line of sight open.
Easy Removal
The AirFit™ N20 can be removed quickly using the magnetic clips and quick release elbow. The magnetic clips attach to the headgear and lock onto the mask frame for quick and simple placement.
FAQs
Sleep Therapy Simplified
Answers to your common questions about ResMed AirFit N20 and tips for getting better sleep every night.
Do I need to purchase any additional parts to interface the ResMed AirFit™ N20 Nasal Mask with the AirMini device?
What is the difference between AirFit™ N20 and AirFit™ N20 for her?
How often should I change my CPAP cushion?
How does the Lofta exchange policy work?
How do I know which style mask will be best for me?
What are the different styles of CPAP mask options?
What are best practices for cleaning my mask interface?
How can I keep my mask on at night? I often remove it while I'm sleeping without realizing it.
Do I have the right mask size? I have to strap it so tight to obtain a seal that it hurts.
What's the correct way to fit or wear a mask?
My mask is leaking. What does this mean?
Why and how often should I replace my headgear?
Can I buy mask replacement parts and supplies from Lofta?
I normally use a nasal mask. Can I use a full face mask when I have a cold?
Can a ResMed mask be used with another manufacturer's CPAP device?