ResMed
ResMed AirFit™ F30 Full Face Hybrid CPAP Mask - Complete System
Sale price

$155.00

Regular price

$170.00
FSA/HSA Eligible ⓘ
Free Shipping ⓘ
Introducing the popular ResMed AirFit™ F30 Full Face CPAP Mask, a top-of-the-line CPAP mask providing unbeatable comfort and open vision capability. Sleek and Lightweight but sturdy, the AirFit F30 mask provides a secure fit for every user no matter their head size or shape.
With
advanced adjustable headgear
and plush cushioning, enjoy a breathable, customizable experience all night long. Put an end to tangled CPAP tubes and noisy sleep conditions with the AirFit F30. The F30 boasts cutting edge technology and comes equipped with an Advanced Quietair
™
Diffuser Elbow that operates almost silently while dispersing air gently around you so you and your partner can get some much needed, restful sleep.
Sleep Apnea therapy is crucial to your health, but ResMed understands that it is also important to be comfortable during therapy and have created a complete solution that ensures you stay healthy while sleeping in peace. Get your AirFit F30 mask today and discover just how good a night's rest can really be!
Everything you need to know about the ResMed AirFit F30.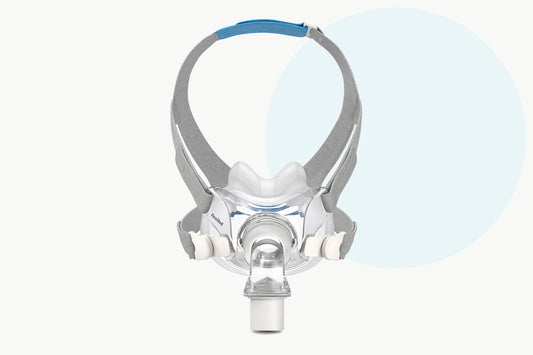 QuietAir™ Elbow Technology
The F30 mask elbow features advanced air diffusion that significantly reduces disturbance, by gently dispersing air away from the patient over a larger area and is measured to be up to 9x quieter
UltraCompact Cushion
The AirFit™ F30 cushion sits securely at the bottom of the nose to prevent minimal skin contact and irritation. Also provides unobscured vision, perfect for those who would like to watch television or read a book in bed during therapy
One Size Fits All Adaptive Headgear
The highly adjustable, plush headgear is specially made to fit almost everybody. It contours to unique head and facial structure for a perfect, comfortable fit
FAQs
Sleep Therapy Simplified
Answers to your common questions about ResMed AirFit F30 and tips for getting better sleep every night.
What is the difference between the AirFit™ F30 and the F30i CPAP masks?
What is included with the ResMed AirFit™ F30 Complete System?
What's the difference between the classic ResMed AirFit™ F20 and the F30 mask?
How does the Lofta mask exchange policy work?
How do I know which style mask will be best for me?
What are the different styles of CPAP mask options?
What are best practices for cleaning my mask interface?
How can I keep my mask on at night? I often remove it while I'm sleeping without realizing it.
Do I have the right mask size? I have to strap it so tight to obtain a seal that it hurts.
What's the correct way to fit a mask?
My CPAP mask is leaking. What does this mean?
Why and how often should I get a new CPAP mask cushion?
Why and how often should I replace my CPAP mask headgear?
Can I buy mask replacement parts and supplies from Lofta?
I normally use a nasal mask. Can I use a full face mask when I have a cold?
Can a ResMed mask be used with another manufacturer's CPAP device?