ZephAir
ZephAir AirMini Universal CPAP Mask Adapter
Sale price

$19.95

Regular price

$24.95
With the ZephAir CPAP Mask Adapter, you can connect any standard CPAP tube to your AirMini Travel CPAP Machine. The ZephAir connector snaps onto the AirMini's main hose outlet. With ZephAir installed, you can now use any standard CPAP tube and mask along with your AirMini.
Only standard tubing / SlimLine tubing can be used. ClimateLine tubing will not work with the ZephAir CPAP Mask Adapter.
* Tubing Required and Sold Separately.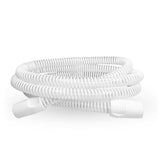 Complete your ZephAir Adapter setup with Tubing.


Click to view tubing options.
Everything you need to know about the ZephAir AirMini Universal CPAP Mask Adapter.