Lofta
Lofta Explore 4000 CPAP Battery Backup Power Station
Sale price

$379.00

Regular price

$429.00
Introducing the Lofta Explore 4000 CPAP Battery Power Station, a sleek, ultra-powerful and long-lasting backup solution for your CPAP machine. Crafted to keep your therapy running seamlessly, this cpap battery offers an impressive run time of 1.5 to 2 nights, or 12-16 hours, depending on your device's settings.
This game-changing power station, weighs just 2 lbs., and its compact dimensions (7.75" L x 5.5" W x 1" H) make it an ideal companion for camping trips or any travel. Its unique Unlimited Linking Technology enables you to link multiple Explore 4000 batteries together, amplifying capacity and providing uninterrupted power for your CPAP machine. 
The Explore 4000 CPAP Battery Power Station features a standard 110V/60Hz AC outlet and three USB ports, allowing you to simultaneously power your CPAP and charge your devices. The onboard AC outlet can also be used for other standard electronic devices such as laptops or projectors.
FAA/TSA compliant for air travel, the 4000 CPAP Battery, with its 120Wh capacity, is designed to keep up with your on-the-go lifestyle. It comes with a LED light display for easy monitoring of battery life and a microfiber protective pouch for safe storage.
Built to serve as an effective CPAP battery backup, this station has a quick recharge time of less than 4 hours and a lifetime of over 500 cycles, ensuring that your CPAP machines, such as the ResMed Airsense 10 and the ResMed Aircurve 10, never run out of power. It's the perfect battery pack for most other CPAP machines and can be used to power any standard electronic device including laptops, phones, projectors, etc.
Get your hands on the Lofta Explore 4000 CPAP Battery Power Station today. Experience freedom, power, and the assurance of uninterrupted sleep therapy wherever you are.
Everything you need to know about the Lofta Explore 4000 CPAP Battery Backup Power Station.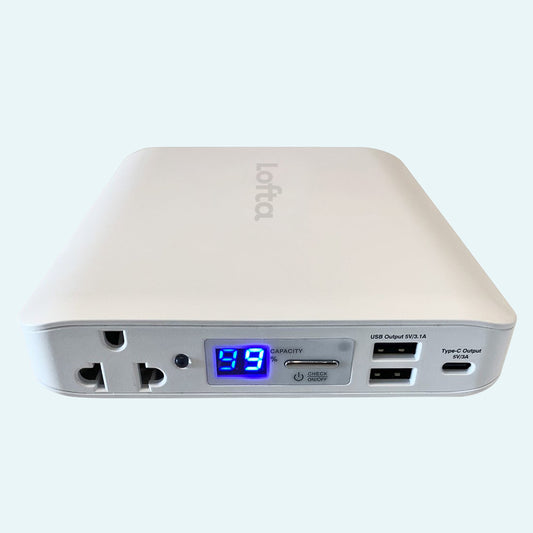 Top-Notch Battery Technology for Extended Sleep Hours
The Lofta Explore 4000 CPAP Backup Battery boasts Panasonic Lithium Ion Cells, the same brand used in premium Tesla vehicles. This technology ensures top-quality performance, longer battery life, and consistent power delivery, allowing you to sleep peacefully for 12-16 hours.
Versatility and Convenience Beyond CPAP
The Lofta Explore 4000 goes beyond powering your CPAP machine. It's a versatile power source that can charge laptops, camera equipment, phones, tablets, gaming consoles like Xbox, and more. No need to carry multiple chargers for your devices; the Lofta Battery has you covered, making it a must-have for anyone on the go.
Ultimate Portability for Travel and Outdoor Adventures
With a weight of only 2.0 lb and dimensions of 7.5" x 5.5" x 1.0" in, the Zopec Battery is super light and compact, making it the perfect companion for camping, hiking, RV trips, and air travel. Its thin profile of just 1" allows you to slip it into your bag effortlessly, ensuring uninterrupted sleep therapy no matter where you go.
Battery Run Time Comparison
CPAP Brand
CPAP Name
Pressure
(cm H20)

Explore Mini
(AC-27K)

Explore 4000
(AC-40K)

Explore 5700
(AC-54K)

Explore 8200
(AC-80K)
ResMed
AirSense 10 & 11
10
8.5
12.5
17
25
15
7
10.5
14
21
AirCurve VAuto
10
8.5
12.5
14
21
AirMini
10
10
15
20
30
15
9
13.5
18
27
20
7
10.5
14
21
Philips Respironics
DreamStation 1 & 2
10
11
16
21
32
15
8
12
16
24
FAQs
Sleep Therapy Simplified
Answers to your common questions about Lofta Explore 4000 CPAP Battery Backup Power Station and tips for getting better sleep every night.
Can I utilize this power bank in my RV and recharge it from the wall outlet?
Should I charge the power bank now if I'm planning to use it for camping in the future?
Are the charging cable and power supply included with the battery pack or do they cost extra?
Do I need to buy a special cord or plug to use with this power bank?
Can the Lofta Explore 4000 CPAP Battery function as an automated backup while it's being charged from a wall outlet?
Can the Lofta Explore 4000 remain connected and automatically switch on during a power outage?
Is the Lofta Explore 4000 CPAP Battery cleared for air travel by the FAA?