ResMed
ResMed AirSense™ 10 AutoSet Connected CPAP Machine
Sale price

$945.00

Regular price

$1,149.00
Note: In stock and shipping!
FSA/HSA Eligible ⓘ
Free Shipping ⓘ
Prescription required for this product before shipment.
Say hello to the AirSense 10 AutoSet Connected device. This is reliability and comfort from ResMed bringing ultra-quiet therapy at a reasonable price point. The AirSense 10 offers auto-titration and features similar to the AirSense 11, but is last generation's model.
Everything you need to know about the ResMed AirSense™ 10 AutoSet Connected CPAP Machine.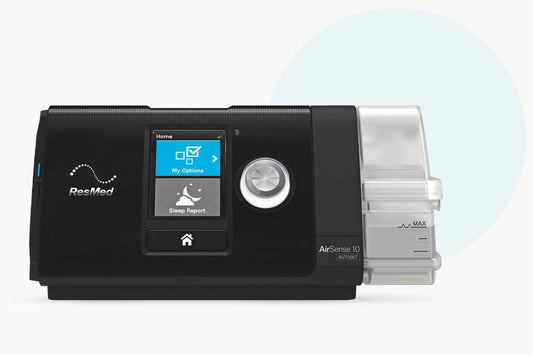 Clinically Proven Algorithm
The AutoSet™ algorithm works to automatically adjust therapy pressure as your needs change – hourly, nightly and from season to season – to deliver the ideal, lowest therapy pressure for maximum efficacy.
Cellular Connectivity
Compliance and reporting is a breeze. The device automatically uploads your data to the cloud via cellular connection for your clinician to review.
User Friendly
The intuitive interface and color LCD screen make it simple to navigate menus and customize comfort settings and the built-in ambient light sensor adjusts brightness of the screen based on the light in the room and turns off automatically.
Ready Support for Sleep Success
Your Lofta therapy continues well beyond the CPAP purchase. We're here with ongoing information and guidance to keep you on the path to healthy sleep.
LoftaCare
Rest easy with Lofta guidance and recommendations.
On-demand compliance reports ($35)

Lofta Respiratory Therapist Team available for support / coaching ($40 for a 20 minute session)

Medical forms requiring a physician signature ($35 - $125)

60-Night Mask Exchange

Enhanced Return Policy
LoftaCare Plus
Personal support sets you up for success.
$200
1 year of coaching calls

60-Night Cash Back Return

60-Night Unlimited Mask Exchanges

1 Year Supply of Device Filters

V-COM Air Flow Reducer

Jump Start Coaching (1 wk, 1 mo, 3 mo, 6 mo)

3-year PAP Device Product Protection

Discounts on future CPAP supply orders

Enhanced Return Policy
FAQs
Sleep Therapy Simplified
Answers to your common questions about ResMed AirSense™ 10 AutoSet Connected CPAP Machine and tips for getting better sleep every night.
Does the AirSense 10 AutoSet adjust my therapy pressure automatically?
What supplies will I need to purchase for the AirSense 10 AutoSet?
How loud is the AirSense 10 AutoSet?
Which mask interfaces are compatible with the AirSense 10 AutoSet?
How do I know which mask interface to use with the AirSense 10 AutoSet?
Will insurance pay or reimburse me for the AirSense 10 AutoSet?
Is there a battery available for the AirSense?
Can I use the AirSense on airplanes?
Will the AirSense 10 AutoSet AC power supply work internationally?
Why should I buy my ResMed AirSense 10 from Lofta?