Skip to product information
AirFit N20 Nasal Cushion

* Selected Mask Displayed
AirSense 11 Basics Bundle
Sale price
$1,117.35
Regular price
$1,299.00
Buy Now, Pay Later with Affirm
In Stock and Shipping Daily
Prescription required for this product before shipment.
The AirSense 11 device is the most advanced auto-adjusting airway pressure therapy device available by ResMed. The integrated technology puts you and your health first, maximizing both comfort, and overall effectiveness of addressing the impacts of your sleep apnea. The Basics Bundle includes everything that is essential: the device itself, a fitted humidification chamber, your selection of either SlimLine™ or ClimateLine™ hosing, and any ResMed mask of choosing.
What's Included:
ResMed AirSense 11 machine (1)
Choice of SlimLine™ (standard non-heated) or ClimateLine™ (heated) tube (1)
ResMed AirSense disposable filter (1)
ResMed Airsense 11 compatible humidification chamber (1)
Choice of ResMed mask and size (1)
Everything you need to know about the AirSense 11 Basics Bundle.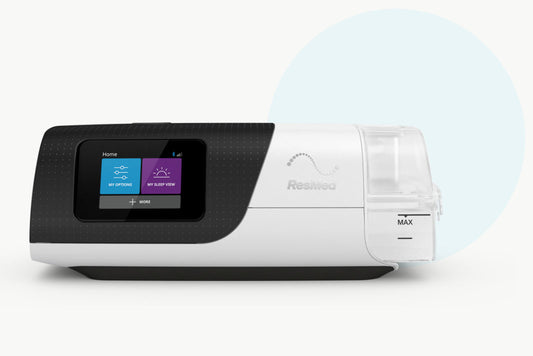 AutoSet™ Algorithm
The AirSense™ 11 changes airflow pressure levels throughout the night based on your needs and breathing requirements.
Multi Function
The ResMed AirSense™ 11 includes three different therapy modes: AutoSet™, AutoSet™ for Her and normal CPAP mode.
Gentle Flow
The AutoRamp™ feature delivers a low airflow pressure that helps you to fall asleep, then steadily increases airflow pressure to your prescribed level while sleeping, providing you with the best sleep apnea therapy.
FAQs
Sleep Therapy Simplified
Answers to your common questions about AirSense 11 Basics Bundle and tips for getting better sleep every night.
Which masks are compatible with the AirSense 11?
Is there a feature to help me get comfortable breathing against pressure, and to help make sure I'm setting up my machine and using my mask correctly?
Can I use an ozone device to clean my the AirSense 11?
How do I clean my CPAP machine and how often?
What is the expected lifespan of a typical ResMed CPAP machine?
What is the difference between the ResMed AirSense™ 10 and AirSense™ 11?
Can you use the AirSense™ 11 without water?
How loud is the ResMed AirSense™ 11?
Does the AirSense™ 11 have WiFi capabilities?
Should I change my CPAP water daily?
How can I clean and maintain my AirSense™ 11 CPAP device?
How can I tell if my AirSense™ 11 CPAP pressure is too low?